We conducted an interview with Freddy Viitala; Graniten's Service & Support Manager to highlight the different on-site and remote services offered by Graniten.
On-site services
What types of on-site services does Graniten offer?
An on-site service can be Production Support. That is for example when the customer needs our help getting started with a new machine and becoming familiar with the equipment.
We also have the Embedded Engineer as an on-site service. The embedded engineer is a service offering that goes together with the equipment delivery. It is when one of our engineers stays at the customer site from installation and SAT test to sometimes few months helping the technicians being more efficient in the production process. In this case, we are more involved inside the production team compared to production support.
Another type of our on-site services is Predictive Maintenance. Here we look at all the machine functions and inspect if some parts need to be changed or something needs to be updated to avoid any breakdown. It is a very important service because no customer wants to have an emergency maintenance. With predictive maintenance, we are at the customer site one or two times per year to make sure that the equipment is functioning correctly.
Emergency Support is when one of our customers have a breakdown and they need an urgent support from us. Usually, the customer has some technicians that can handle solving the problems with our remote support, but we also have the possibility to travel within 24 hours to the customer site.
When is on-site service considered the best option?
I think on-site services are best when they are planned. When we are onsite doing predictive maintenance, we usually do not have any breakdowns. We can do emergency support or production support remotely but of course it also depends on the kind of support the customer needs. We can guide the technicians to fix the problem by using Augmented Reality (AR) or some other tools.
Remote Services
What forms of remote support are offered by Graniten?
Remote support is the quickest way to help customers with different problems and breakdowns. Our Helpdesk is available 24/7 providing quick responses and remote assistance to customers. Besides, we have Augmented Reality (AR) support, we use TeamViewer Pilot which is a great tool that allows us to connect with our customers and see what their smartphone/tablet camera sees enabling us to point at objects or make drawings in order to guide the customer easily and efficiently. Of course, it always starts with a phone call from the customer and from there we switch to AR if needed.
We also have the possibility to connect directly to the machine. We can actually see what is happening in the software and do some troubleshooting remotely. We use Secomea, which is an electrical device inside the cabinet that we integrate to the machine. We can also connect to the PLC or the HMI. The great advantage with Secomea is that we do not need the customer to do anything, we can actually connect and troubleshoot from remote. It is an efficient way in helping the customer rapidly. For example, one of our global customers has asked us to integrate Secomea to their machines so when a problem arises in one of the customer sites worldwide, we can directly connect to the machine and give our feedback about how we should deal with a problem rapidly.
Condition Monitoring is also something that we are looking more and more into. Through Condition monitoring we can predict certain breakdowns before they happen and avoid them. If a certain critical part needs to be changed, we could have that information popping on the HMI.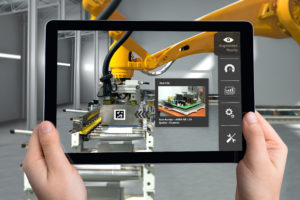 What are the benefits of remote services?
The benefits are efficiency and faster response time. With remote services, we are able to get the production going again much faster with less costs to the customer. When the equipment is not working and the production is not running, the customer is losing money but with remote support we can help the customer faster and thus saving costs to the customer.
There are also benefits to being onsite like customer care, being part of the production and easy communication with the customer. I think we cannot get rid of onsite services completely; we still need to have both onsite and remote support.
Have you noticed an increase in remote support since the pandemic? What was the impact?
Yes of course, there were some customers that we could not visit because of travel restrictions so we had to adapt and help the customers a lot more remotely than before. Today, we are more focused on AR and condition monitoring, we do not know what might happen in the future and I think we need to be prepared.
Freddy Viitala – Service & Support Manager at Graniten